Wake to Wake
3970 Bristol Highway
Johnson City, Tennessee, US, 37601
Tel:423-391-7316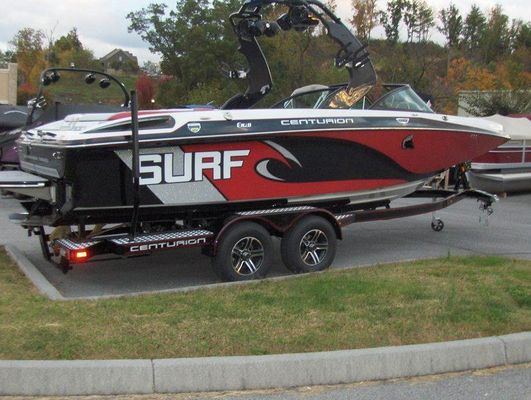 2015 Centurion Enzo FS33
Wake to Wake; Johnson City, Tennessee
REDUCED PRICE
2015 Centurion Enzo FS33
BOAT NEEDS TO GO... MAKE OFFER!!!
Loaded with all new features for 2015 the new Enzo FS33 is completely redesigned from bow to stern. New features include the Maximus Tower, Centurion Downfire audio system with LEDs, flip-up stadium seating and so much more! Optional RAMFILL ballast system providing you with the largest capacity tanks with the quickest filling system possible. No gimmicky surf-system, this is pure displacement and the FS44 is the premier wake surfing boat creating longest, hardest, most powerful waves available. The CATS system is back and provides an unprecedented level of adjustability in your wave shape, size and control of your boat. There is no substitute, and these are the most advanced wake sports boats available.
The Maximus tower has an integrated swimming light, dome lights, bimini with surfboard sleeves up top, and comes with an assist system to quickly lower and raise the tower.
The Enzo FS44 is the boat of choice for professional athletes, Keenan Flegel, Raleigh Hager, and Ashley Kidd.